I'm happy to demonstrate how to use the Gelli Arts gel printing plate today. I learned how to use it in class with Julie Fei-Fen Balzer a few months ago, and I have to warn you, it's addicting. There's no right or wrong, and it's easy to make cool customized prints. I had an article on this published in Unruly Paper Arts earlier this week. Here's the process:
This is what the gelli looks like when it's totally clean. You clean it with plain old H2O.
Apply paint with a brayer to make an even coat. You get different results depending on the paint you choose - liquid acrylics are the easiest to work with but they dry very fast so you need to keep moving.
Lay a stencil down in the wet paint.
Put a sheet of deli paper on top and either brayer it or just run your hands over the paper. You can definitely get a fine print just using your hands to smooth the paper down over the stencil.
Peel back to reveal your print. I repeated with darker paint so you could see better:
Don't you love how you get both the positive and the negative prints? Then you just keep layering and layering (since the paint dries so fast, I barely wait before applying another layer) and end up with super rich prints:
Enabler Alert: Dick Blick has Gelli plates on sale right now... click below!
Thanks for visiting!
Marjie
available in two sizes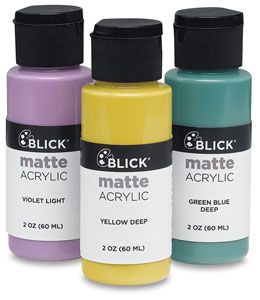 available in 72 colors