Carolyn Dube's Gelli Print Party kicks off its second month today and I'm happy to be joining in with this page from my art journal.  You can find all of Carolyn's details here: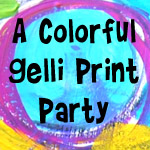 I started with a print I made back in December when I did this tutorial for Unruly Paper Arts.  I used my Gelli Arts plate on deli paper using multiple layers of paint applied through stencils.  
The waxy paper becomes almost leathery in feel with the layers of paint added to it. I love the rough torn look of it. I added lots of stamping and some bits of tissue paper, tape, felt arrows, and my favorite part - the die-cut letters spelling out 'path':

I made these with Tim Holtz's Sizzix Word Play die, using a leftover print that I glued onto grungepaper.  They seemed a bit lost on the page so I cut another set of letters with black cardstock, and used those to create a shadow effect behind my 3D letters.
You can get your very own Gelli Plate here (I know you want to!):
I'll link this to 'Anything Goes' at Simon Says Stamp. Thanks for the visit!  Be sure to head on over to Carolyn's blog to join her par-tee!
Marjie